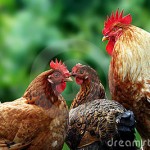 Years ago I interviewed a woman who had a sanctuary for needy chickens. She told me about sitting on her porch steps one afternoon and wiping tears off her cheeks. Her favorite in the flock jumped into her lap, cuddled up to her, and — the woman was sure — tried to console her. I believed her. Humans are not the only compassionate beings on our planet.
I had forgotten about that woman and her chicken until recently when my friend Elsa sent me a New York Times article: "What a Blind Chicken Can Teach Us About Humanity." The author, Ellen Chase, noticed that one of her chickens was bumping into things and another was roosting next to her, following her through the grass, and staying with her nearly all the time. When the blind chicken disappeared, Chase found her under the hen house with her companion watching over her. One day in the garden, the kindly chicken grabbed a worm and set it in front of the blind one like a gift.
Elsa believes that chickens can care very much about each other, as Chase's did. Elsa says that two in her own flock, Spreckles and Red, were best friends. After Spreckles suffered a stroke, Red stayed with her every day and slept in the same box with her. Then Spreckles died, and a month later Red, who had been in excellent health, died suddenly, too. "She pined away for her friend," Elsa says. "People don't usually think of chickens as having deep bonds, but the proof is right there."
And so it is, or so it seems to me. The chickens are also proof that beauty is all around us. The trick is to see it. If we open our eyes, it's everywhere. Even in a hen house.
Here's Elsa's picture of that good-hearted Red: