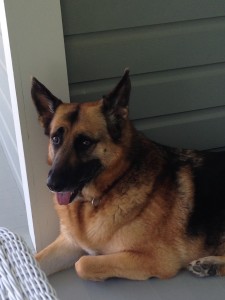 While I have dropped off the earth to write a new novel, a wonderful thing has happened. Bridget, the world's most beautiful German shepherd, has come to grace my life.
Her former people, who deserve withering disdain, dumped her in the San Bernardino desert.  After who knows how long, someone found her, desperate, starving, flea-bitten, and tick and parasite infested.  She was taken to a shelter, where a vet discovered that she'd recently had puppies.  He decided that in her deplorable condition, she should be put down.  At the very last minute, however, volunteers from the Washington German Shepherd Rescue spirited her to Seattle, thank goodness.  Randy Ehrlich, a sainted German shepherd lover, took her in and brought her back to health.
And then I met her!  Love at first sight!  Everyone who meets her loves her.  My friends invite her to dinner.  My family asks to petsit.  She has fans all over the neighborhood.
Now strong and regal, she is proof that time heals wounds, that courage triumphs over hardship, that beautiful hearts can survive the worst of times.  No one would guess that she weathered harsh, rough months alone, and she seems to hold no grudges about her past.
With devotion, she protects me from FedEx deliverymen.  And despite all she's been through, she is still trusting.  You can see it when she sleeps on her back with her legs in the air and her vulnerable stomach is exposed.  If you set a slab of wood on her paws, she could be a coffee table.
When I think about the miracle that brought Bridget and me together, I mentally thank all the kind strangers who rescued her and saw her on her journey to a new and better life.  I am grateful to them beyond measure.
So here she is:  Bridget the Brave and Good.